About Villa David in Vallarta
Villa David Bed and Breakfast is the only gay (Men Only) clothing optional Guest House centrally located in an authentic Mexican neighborhood within easy walking distance of all the finest attractions of Puerto Vallarta Mexico. The old world hacienda style mansion is built around a central courtyard in the area called gringo gulch. The house is on the hillside overlooking the beautiful Bay of Banderas and built in the open-air style to catch every mountain and bay breeze. Our main entrance is on Calle Galeana #348, the balconies of the bedrooms are over Calle Miramar to the west and Calle Emilio Carranza to the east.
Villa David is the only gay bed and breakfast located in the historic colonial or old town section of Puerto Vallarta. We are also the closest gay property to most of the gay bars. A short walk through the colorful cobblestone streets takes you past the former homes of Liz Taylor, Richard Burton and John Huston. It's not unusual to see tour buses driving past Villa David filled with tourists looking at all the sights of gringo gulch and that incredible view. From our hot tub deck, the two master bed rooms and new roof top viewing deck, we have views of the cathedral, downtown area, south side, hotel zone, Los Arcos, Nuevo Vallarta; in short the whole bay. These are also great places for watching the incredible sunsets that Puerto Vallarta is so famous for. Here each sunset is an event!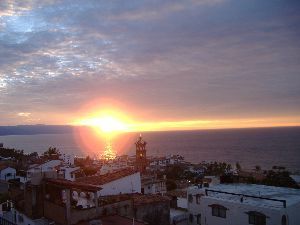 Villa David has a comfortable home-like atmosphere. The house is built around a lush green courtyard centered with a beautiful brick and tile pool that was built around an existing old cut stone fountain. The courtyard is planted with Birds of Paradise, orchids, bougainvillea and Night Blooming Jasmine and has a brick terrace that is a great place to sit and read, play games or just talk. There are many common areas to socialize and plan the night's activities with other guests. The living room and dining room have only three walls. They are open to the courtyard so you get the feel of living outside.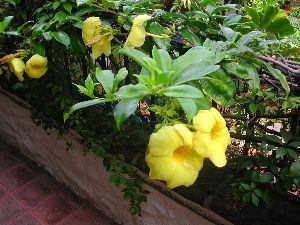 The living room does have a TV, DVDs,and books. There is a guest computer located in the living room and is used for checking your email, and we have Wireless internet for guests who want to bring along their own laptops.
The dining room where breakfast is served in a style you deserve on china, cloth napkins and actual silverware. We do not use paper plates , paper napkins, or plastic forks! Breakfast is served buffet style and usually has some type of egg dish, bacon or sausage, waffles freshly made, pancakes or French toast, fruit salad, rolls, juices and coffee and tea. This is a great place to talk with other guests and plan the activities of the evening, or to talk about who did what to whom.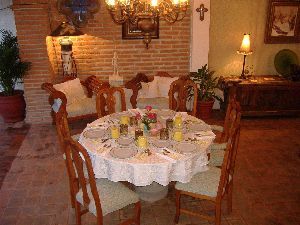 Speaking of evening activities, dinner is usually high on the list of priorities. Villa David is located within 6 blocks or less from all the following world class restaurants. Le Bistro, River Cafe, Oscar's, Trio, Cafe des Artistes, , and El Panorama the view is incredible-oh, it's the same as ours! El Arrayan, gay owned and operated just to name a very few. We are just as close to yes The Hard Rock Cafe, Carl Jr's, McDonald's and Burger King!
The local market and Boardwalk shopping areas are within four blocks of the house as are many of the art galleries like Sergio Bustamante, Galeria Pacifico and Galeria Uno just to name a few. The Malecon (boardwalk) area of Puerto Vallarta is only 3 blocks from the house. The Malecon is where most of the Mexican nightlife is centered. This gives you the opportunity to see the real Mexico,especially on the week-end when all the Mexican families come out. From the Malecon, the rest of Puerto Vallarta is within easy walking distance. There is a new footbridge that crosses the river, so you never have to leave the ocean front. This gives you the opportunity to experience the city on foot, seeing many things you would otherwise miss if in a taxi or bus. You can cross the bridge and within a ten minute walk, you can be on Olas Altas and the many little cafes and restaurants there. From there you are only a few minutes walk from the popular gay beach.
Villa David has ten bedrooms, nine of which we rent. See room descriptions for an explanation! ALL rooms have private baths. They are in varying styles. Six have balconies and are built in the Mexican style. Two of these rooms have huge round tubs with domes and cupolas, the other four have hand made tile murals on their shower walls of seahorses, mermaids and other forms of aquatic life. Even fish! All rooms have ceiling fans and Air conditioners. Coupled with the mountain and ocean breezes, they provide lots of ventilation and breezes.
Puerto Vallarta is a wonderful city, comfortable with all nationalities, races and lifestyles. It has been an international destination for many years. After all, Puerto Vallarta was one of the most popular vacation spots for the Hollywood stars. Even Vivian Vance and Lucille Ball!
At Villa David we are able provide you with all the inside information on where to dine and shop. We can also schedule massages, various tours such as snorkeling, horseback riding, scuba diving, fishing, gay cruises, canopy tours and bicycling.
We will do our best to ensure you have the best vacation you can possibly have. Villa David has the lowest rates for the quality and amenities offered, of any gay property in Puerto Vallarta.
For more information and reservations call our US phone 1-877-832-3315, or email bill@villadavidpv.com Our Mexican phone is 011-(52)-322-223-0315.

Please note. Reservations are essential.